Last week Defra and the Environment Agency announced that parts of the Anglian region are in a state of drought, whilst areas of the South East, South West, the Midlands and Wales are experiencing near-drought conditions. Spring 2011 has been the driest on record in South East and Central Southern England, and the driest right across England and Wales since 1990.
Meteorological (weather) variables are collected at 12 UK ECN sites. An initial analysis of available data from these sites for January to May of this year clearly shows how little rain fell during March and April.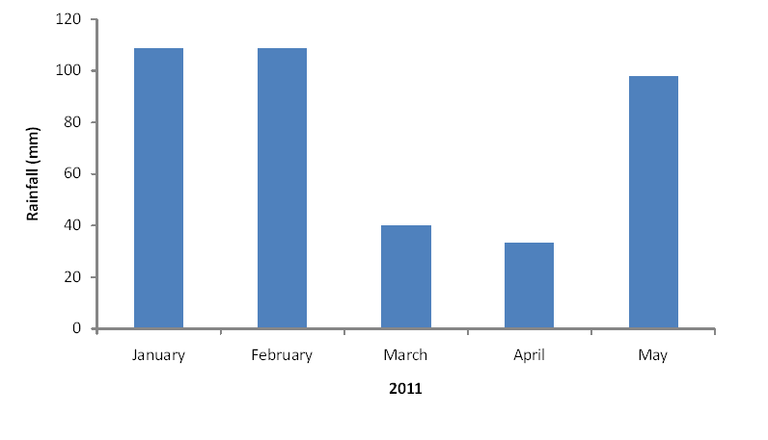 Figure 1: Mean total monthly precipitation (rain and snow fall, in mm) for UK ECN terrestrial sites for January to May 2011
The data for individual sites are presented in this report (PDF file). They show large variations in rainfall totals between locations, and also how monthly rainfall totals at several ECN sites compare with longer term average values. The lack of any significant amounts of rain at most of the sites this spring is clearly evident.
Almost all sites for which a comparison can be made experienced drier than usual weather during April and, with the exception of Glensaugh (Scotland) and Hillsborough (Northern Ireland), also during March. At Rothamsted in Hertfordshire, rainfall from March to May 2011 was the lowest (driest) since records began at Rothamsted in 1870, and was only 25% of the 1995-2010 average.By contrast, May saw a return to wetter conditions, though North Wyke (Devon), Alice Holt (Surrey) and Rothamsted again received considerably less rain in May than the longer-term average.
According to the UK Met Office, for England and Wales, 2011 was the second driest spring (i.e. March-May) since 1910 and the driest since 1990. What's more, mean temperature across the UK was 9.1 °C, equalling spring 2007, the warmest on record.
Various observations of apparent effects of the warm, dry weather have been reported by ECN site managers. At Rothamsted and Wytham Wood (Oxfordshire), bluebells appear to have flowered for a shorter time than usual, grass growth at Glensaugh was slowed, and at Porton, agricultural crops generally appear 'thinner' than normal. Some site managers have also reported earlier flowering of some plants and grasses.

This summer we will be conducting a vegetation survey at our terrestrial sites. Thanks to our regular monitoring of a range of biological groups and three-yearly recording of vegetation at most sites since the early-mid 1990s, we should be well-placed to assess the impacts of this exceptionally dry spring on a range of important habitats. This will enable us to follow up work published previously on the 1995 drought (see below).
Further information
A paper on the impacts of drought on plant and invertebrate species at ECN sites was published in 2002: Morecroft, MD., Bealey, CE., Howells, E., Rennie, SC. and Woiwod, I. (2002). Effects of drought on contrasting insect and plant species in the UK in the mid-1990s. Global Ecology and Biogeography, 11(1), 7-22.
Note: This is an initial analysis of UK ECN meteorological data for 2011 and the data have not yet been subject to our standard quality control procedures.
---