The Environmental Change Network is a multi-agency organisation co-ordinated by the UK Centre for Ecology & Hydrology on behalf of the Natural Environment Research Council (NERC) and other ECN sponsors.
The organisational structure of ECN comprises:
Steering Committee (SC) of representatives from each sponsor
Scientific and Technical Advisory Group (STAG)
ECN Central Coordination Unit (ECN CCU), located at UKCEH Lancaster
ECN monitoring sites funded by sponsors and operated by research partners.
Image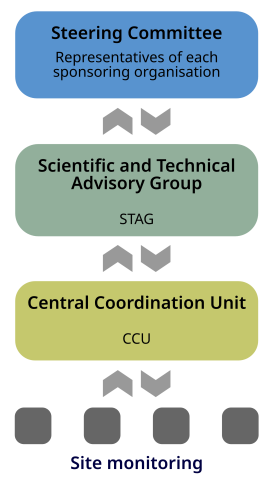 Key actions:
ECN policy and finance are decided by the Steering Committee
Technical development and data analysis issues are considered by the STAG
Network coordination and communication are managed by the CCU*
Data management is the task of the CCU*
Environmental monitoring and research, including data collection and initial processing takes place at sites.
*Resources for the CCU are currently very limited.